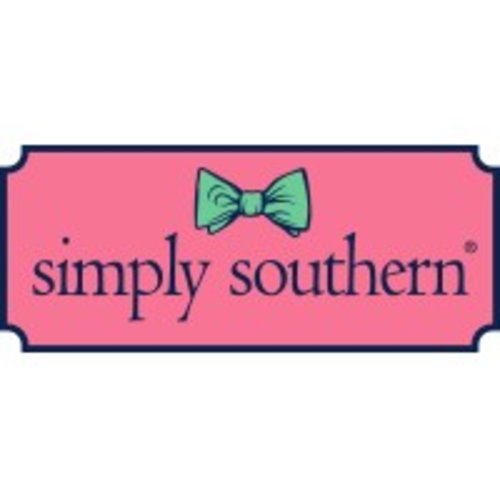 SIMPLY SOUTHERN
Being a preppy Southern woman, I love when I find a brand of clothing which fits my Florida lifestyle. Laid back, fun and not expensive are key for my (mostly) causal days. A few years ago, I found a great brand. Not only do they have the casual, cool clothing I love, but they have fun accessories that match! This became my pre-teen daughter's go-to brand of choice as well.
Simply Southern is preppy, casual and fun brand. It is sized for youth and ladies. Colorful graphics cover the backs of most t-shirts with wholesome sayings, usually accompanied with adorable animals (sloth, pig horse, sea turtle, sea horse, dog, unicorn, mermaid) or Southern symbols (anchor, bow, pineapple, watermelon). The variety is so wide that I can't list them all, but I can assure you there is something for everyone. The sentiments on some shirts support your home state, your love for God, being a good friend or pride in southern living. Very sweet. New items are coming in constantly at Firefly & Lilies Boutique. This brand is distinctive and preppy like Vineyard Vines, but way more fun (and less expensive).

Simply Southern t-shirts and accessories are a huge hit in the South right now, especially with pre-teens and teens due to the witty sayings, playful graphics and affordable prices. Supplemented by fast-selling bags, iPhone cases and accessories, lip gloss, statement bracelets and much more. Lots of best friend items that make for easy gift buying.
An adorable beachwear line is my personal favorite, carried by Firefly & Lilies. It is made up of light and airy dresses and shorts with tassels. The prints are summery and bright. They echo the brand with pineapples, sea turtles, and more. This line comes in both youth and adult sizes.
I love cute, preppy fashion. I love that I live in the South. I love my country. I love God. I love funny stuff and animals. This is such a great brand at Firefly & Lilies. A feel-good brand. When I wear the clothing or use the accessories it makes me smile. My daughter and her friends as well.
If you're wondering where to buy the best Simply Southern clothing and accessories I highly recommend checking out this brand at Firefly & Lilies. You'll be in love.
Firefly & Lilies also carries fancier attire for dressier days.